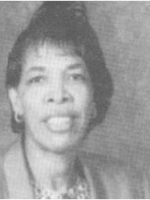 In Loving Memory of Evangelist Mary Jones
1942-2010
Evangelist Mary Jones, a renowned bible scholar, street, radio/ TV evangelist, and a dedicated woman of God, founded the Liberty Community Church of God in Christ where thousands of people from near and far has come and received spiritual refuge and miraculous supernatural healing. Evangelist Jones often referred the ministry as a "spiritual hospital" where people can come and receive the "good news" of Jesus Christ and many returned back saved, healed and delivered from all types of sicknesses and diseases. The name of the church was appropriately named from the scripture found in Galatians 5:1 which states, "Stand fast therefore in the liberty by which Christ has made us free, and be not entangled again with a yoke of bondage." To this day, the church continues to outreach and serve in the communities which have impacted so many lives throughout the state of Maryland and beyond.
Liberty Community Church of God in Christ's first and official service began on Sunday, June 14, 1981, in a storefront on West Belvedere Avenue which is directly across the street from the notorious Pimlico Race Track, with Evangelist Jones as the expediter, choir director, musician, and coordinator, was accompanied with her husband Elder Lazarus Jones as the officiating clergyman, her favorite mom, Mother Sarah as the head usher and her six children: LaContiss, Denise, Pamela, Stanley, Demetrius, and Gordon served in numerous capacities as needed. Also in attendance were the Chaffin Family and the Pearson Family which totaled seven (God's perfect number) decided to join the church after hearing the spoken word, "In the Beginning" which was found in Genesis 1:1.
A short time later, the church continued to grow and relocate throughout Baltimore City to Baltimore County with the goal to preach the Word of God and seek the lost in the communities. As a result, many auxiliaries were organized and various members captured the vision and launched ministries and individual outreaches throughout Baltimore and other various cities across the country. Liberty Community Church of God in Christ remains in existence and will continue to be measured by the word of God, sheltered under the "umbrella" of God's protection, be powerful in praise and remain faithful to God. All are invited and welcome to attend any of the scheduled services.