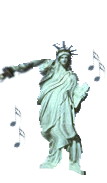 "Give me liberty or give me death…" Famous quote by Patrick Henry March, 1775
Life, liberty, and happiness comes only from God which are the basic foundations in the lives of Christians. As it states in John 10:10, "…I am come that they might have LIFE, and that they might have it more abundantly." Galatians 5:1 states, "Stand therefore in the LIBERTY wherewith Christ has made us free…" and in Psalm 144:15 states, " HAPPY is that people, that is in such a case: yea, happy is that people, whose God is the Lord."  So, when you are a follower of Christ, you will undoubtedly have life, liberty, and experience true happiness.
Today- you, too can be free and experience the "true" liberty in Jesus Christ. Will you join us today in our Sunday Worship Experience Service? You will be so glad that you did.