Every day from September 22 to November 30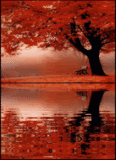 The arrival of fall is marked by events such as the changing color of leaves and a drop in temperature. Significant events and developments often mark life changes, which can be considered seasonal changes.
The Bible contains a wealth of inspirational verses and passages that reflect on the changing seasons during the year and during a lifetime. Galatians 6:9- "…In due season we shall reap if we faint not."
As believers, we should be like the tree, as stated in Psalms 1:3 that is firmly planted by the rivers of waters, bringing forth fruit in due season without withering. Water is the tree's life source just as water is essential to the human body; it will physically die without fluids. In Christ, we live breathe, move and have our being, because Jesus is the only "living water" that will bring life to the soul. By drinking the "living water" according to the scriptures, one can live and never thirst again. God, in Christ, satisfies our real thirst by means of the Spirit. Christ alone can quench our inner thirst. He alone can meet the deepest need of our heart, soul, and mind. In this season of change, let us start fresh and invite Jesus in our lives today. We too, can embrace the presence of God and experience refreshment, joy and tranquility living inside us.